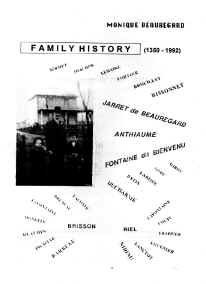 This book, "Family History (1350 - 1992)" was written by Monique Beauregard. I bought a copy at the Beauregard family reunion in Verch

è

res, Qu

é

bec in August 1992.

I don't know when she wrote the book or how to get in touch with her since she did not provide that information in the book. I translated it into English for my own use mostly because my mother was a Fontaine. Monique's book is about both sides of her family, Beauregard (father) and Fontaine (mother).

Her uncle, Father Jean Marie, O.P., was the priest who did the research in France that was the basis for Denis Beauregard's book.

Monique's book includes an interesting manuscript written in 1894 by her grandfather, Adélard Beauregard. He mentions many friends and relatives, including his grandfather, whom he knew and tells about life in Canada at that time.

I've had a few copies made of this 85 page book.

These are photo copies of the translated pages with a plastic spring binding and a cover applied. The quality of the pictures is about the same as in Monique's book since hers was also made with a copying machine.

I charge $15 per copy to cover the cost for the book, the mailers, and the postage.

If you wish to have a copy, please contact me at RLBASC@AOL.COM.